Feb. 17: Rita A. Gardiner colloquium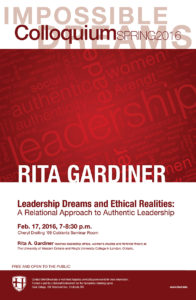 FREDERICK, Md.—A professor of leadership ethics will give a lecture on the theory of authentic leadership Feb. 17 at Hood College to continue the spring "Impossible Dreams" colloquium series.
Rita A. Gardiner, Ph.D., will present her talk, "Leadership Dreams and Ethical Realities: A Relational Approach to Authentic Leadership," from 7 to 8:30 p.m. in the Cheryl Dreiling '69 Coblentz Seminar Room. She will compare and contrast her way of thinking with that of Hannah Arendt, a political theorist from the mid-1900s.
Gardiner will explore the assumptions and limitations with the authentic leadership theory. She will argue that this theory privileges abstract thinking. Arendt offers a different way of thinking about leadership ethics rooted in lived experience, showing how our dreams of a more ethical leadership praxis must always connect with everyday reality. Gardiner will also discuss narrative accounts of three senior women leaders and how gendered experiences of leading complicate what it means to lead authentically.
Gardiner published the 2015 book "Gender, Authenticity and Leadership: Thinking with Arendt," which examines the conceptual underpinnings of authentic leadership to discover why so little attention has been paid to gender. She explores the failure to interrogate the complexities surrounding the concept of authenticity, especially as it relates to the diversity of lived experience.
Gardiner teaches leadership ethics, women's studies and feminist theory at The University of Western Ontario and King's University College in London, Ontario.
This event is free and open to the public. It is funded in part by a National Endowment for the Humanities challenge grant. For more information, contact Katy Fulfer at fulfer@hood.edu or visit hood.libguides.com/colloquium/events.