Sept. 24: Ivan Coyote kicks off fall colloquium series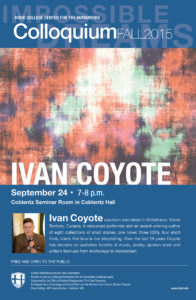 FREDERICK, Md.—A colloquium series featuring a world-renowned performer, a dance scholar and an accomplished poet is scheduled for this fall at Hood College.
The Hood College Center for the Humanities 2015-16 colloquium series on "Impossible Dreams" features Ivan Coyote, Joshua Legg and Julia Lisella. Coyote will kick off the series Sept. 24 from 7 to 8 p.m. in the Coblentz Seminar Room by reading from "Gender Failure," "Missed Her" and "Tomboy Survival Guide."
An award-winning author of several short stories and films, and a lover of live storytelling, Coyote began performing in 1992 and in 1996 co-founded Taste This, a four-person performance troupe that combined live music, storytelling and performance poetry. Coyote continues to tour extensively throughout North America and Europe, telling stories to festival audiences, to high school students, social justice activists, adult literacy students and senior citizens. An audience favorite at music, poetry, spoken word and writer's festivals from Anchorage to Amsterdam during the last 19 years, Coyote was born and raised in Whitehorse, Yukon Territory, Canada.
This event is co-sponsored by the office of student engagement, first-year programs, the department of sociology and social work and the women's and gender studies programs.
For more information on Coyote, visit this website: www.ivanecoyote.com.
The colloquium series will continue Oct. 1 from 6:30 to 8:30 p.m. in Brodbeck Music Hall when Legg introduces dance performance as an embodied humanities practice and gives participants a practical sense of key elements of the presentation. The fall series will conclude Oct. 28 with Lisella's poetry reading, followed by a question and answer session and a book signing, from 6 to 7 p.m. on the Library Reading Porch.
The "Impossible Dreams" theme was inspired by Don Quixote and his dream of being a knight errant. The theme can be interpreted loosely, and the colloquium series will look at many different aspects of how impossible dreams shape the human condition.
The Hood College Center for the Humanities was founded in 1990 by a group of faculty members from Hood's humanities departments—art, English and communication arts, foreign languages, history, music, philosophy and religion. During its nearly 25-year existence, the Center for the Humanities has presented a distinguished roster of events and hosted internationally renowned speakers. In 1999, Hood was the recipient of a major challenge grant from the National Endowment for the Humanities, which helps provide for an annual lecture series and an NEH visiting scholar.
All colloquium events are free and open to the public. For more information about the series, visithood.libguides.com/colloquium/events or contact Katy Fulfer, Ph.D., NEH Libman Professor of the Humanities, at fulfer@hood.edu.