Jan. 14-28: Art exhibit kicks off spring colloquium series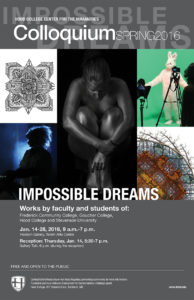 FREDERICK, Md.—A collaboration of artwork from members of four institutions will be on display Jan. 14-28 at Hood College.
The "Impossible Dreams" art exhibit will include work from faculty and students from Hood College, Goucher College, Frederick Community College and Stevenson University. The exhibit kicks off Hood's spring humanities colloquium series.
The show will be open daily from 9 a.m. to 7 p.m. in the Hodson Gallery in the Tatem Arts Center. There will be an opening reception Jan. 14 from 5:30 to 7 p.m. with a gallery talk at 6 p.m. This is the second collaborative art exhibit for the humanities colloquium; the first was last year.
Also on the humanities schedule is the "Don Quixote" reading group, which will continue with part two of the novel on the first and third Thursdays of each month in the Beneficial-Hodson Library, Room 2007. Drop-ins are welcome and encouraged. The first session of the year is Jan. 21.
The next colloquium speaker is Rita A. Gardner, Ph.D. Her speech, entitled "Leadership Dreams and Ethical Realities: A Relational Approach to Authentic Leadership," is scheduled for Feb. 17 at 7 p.m. in the Coblentz Seminar Room.
The events are funded in part by the National Endowment for the Humanities and are free and open to the public. For more information on the art show, contact Gary Cuddington at 301-696-3139 or cuddington@hood.edu. For more information on the spring colloquium series, visit hood.libguides.com/colloquium/events or contact Katy Fulfer at fulfer@hood.edu or 301-696-3211.